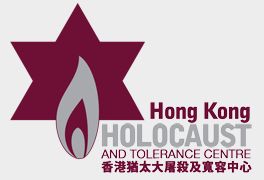 Annual update
June 2022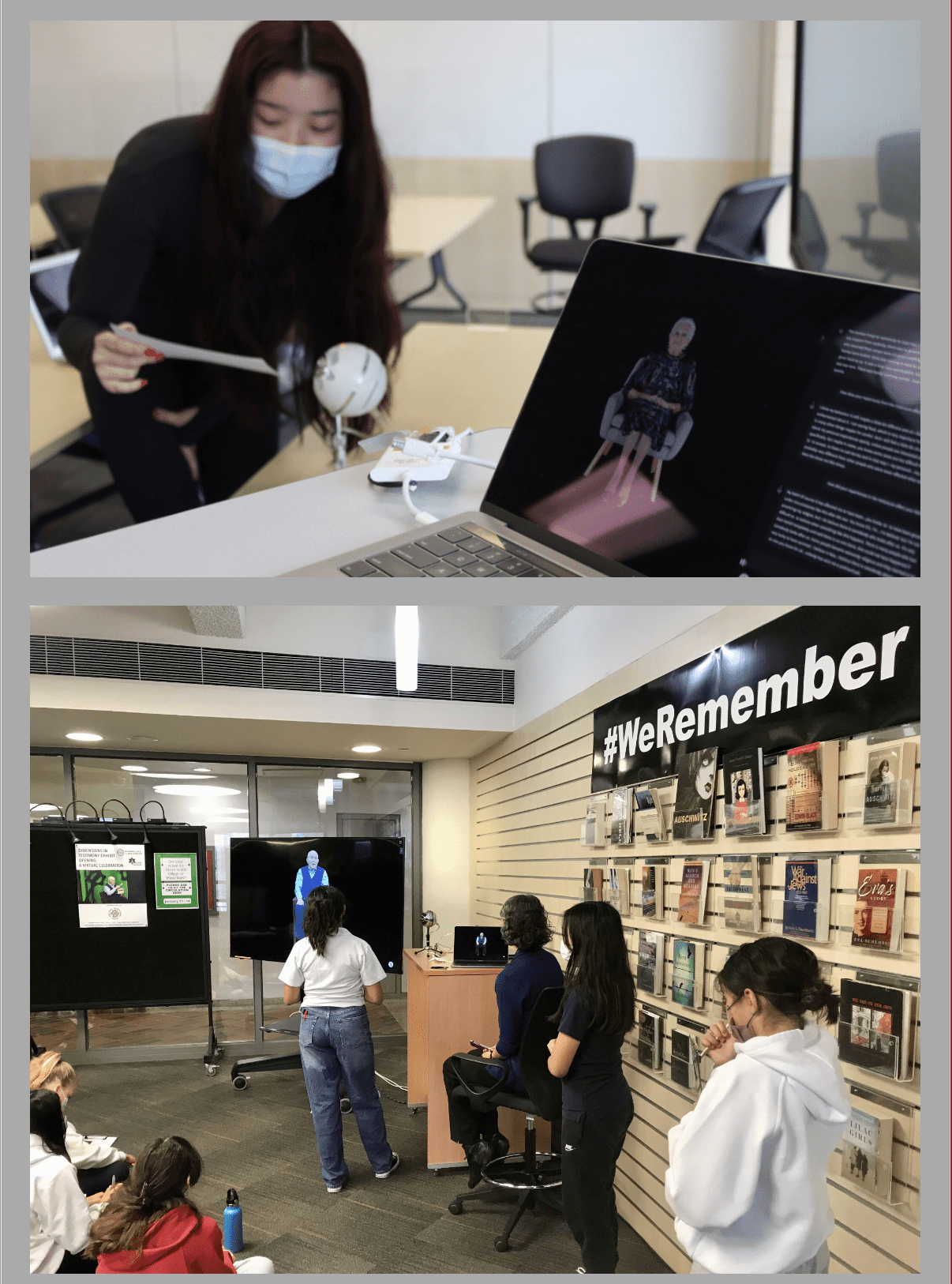 The Hong Kong Holocaust & Tolerance Centre-USC Shoah Foundation's Dimensions in Testimony project, which keeps the memories of genocide survivors alive through groundbreaking technology, is now brought to Hong Kong's schools where students can experience the power that an in-person conversation with witnesses to history can still have even if the witness is not physically present.
Dear HKHTC Friends,
The Hong Kong Holocaust and Tolerance Centre (HKHTC) marked an important milestone in 2021, celebrating its tenth anniversary as an organisation. With your help and support, we established HKHTC as the leading centre on Holocaust awareness in East Asia and as a major voice on tolerance education in our region.
As the current events around us show, peace, tolerance and safety are fragile and all too easily shattered. It is our mission as an organisation to advance knowledge about the Holocaust. We provide accurate, relevant information, something that is ever more necessary in times when deliberate misinformation, antisemitic hate speech and outright Holocaust denial circulates widely online. We honour the memory of the victims of the Shoah and make sure the atrocities of the past are not forgotten. We instill in younger generations a sense of ownership and responsibility so as to be vigilant against intolerance and to encourage different communities in a diverse and international city like Hong Kong to come together.
Throughout the past year, HKHTC embarked on a major transformation of its programming. As Covid-19 restrictions led to the cancelation of many face-to-face events, we built up a very significant range of digital resources that we now effectively deploy in schools and universities. We signed two major partnership agreements with the USC Shoah Foundation and Yad Vashem to bring a whole new set of inspirational educational technologies to Hong Kong, jointly develop projects relevant to Asia and innovate how young people in Asia access and experience Holocaust and tolerance education. We are now in position to continue our events, programmes and workshops without any interruption or delay both for in-person and online activities. The considerable investments we made in 2021 – with your steadfast support and amazing generosity – to develop these new digital resources are paying off.
HKHTC-USC Shoah Foundation Project Brings the Cutting-edge Dimensions in Testimony and iWitness Systems to HK Schools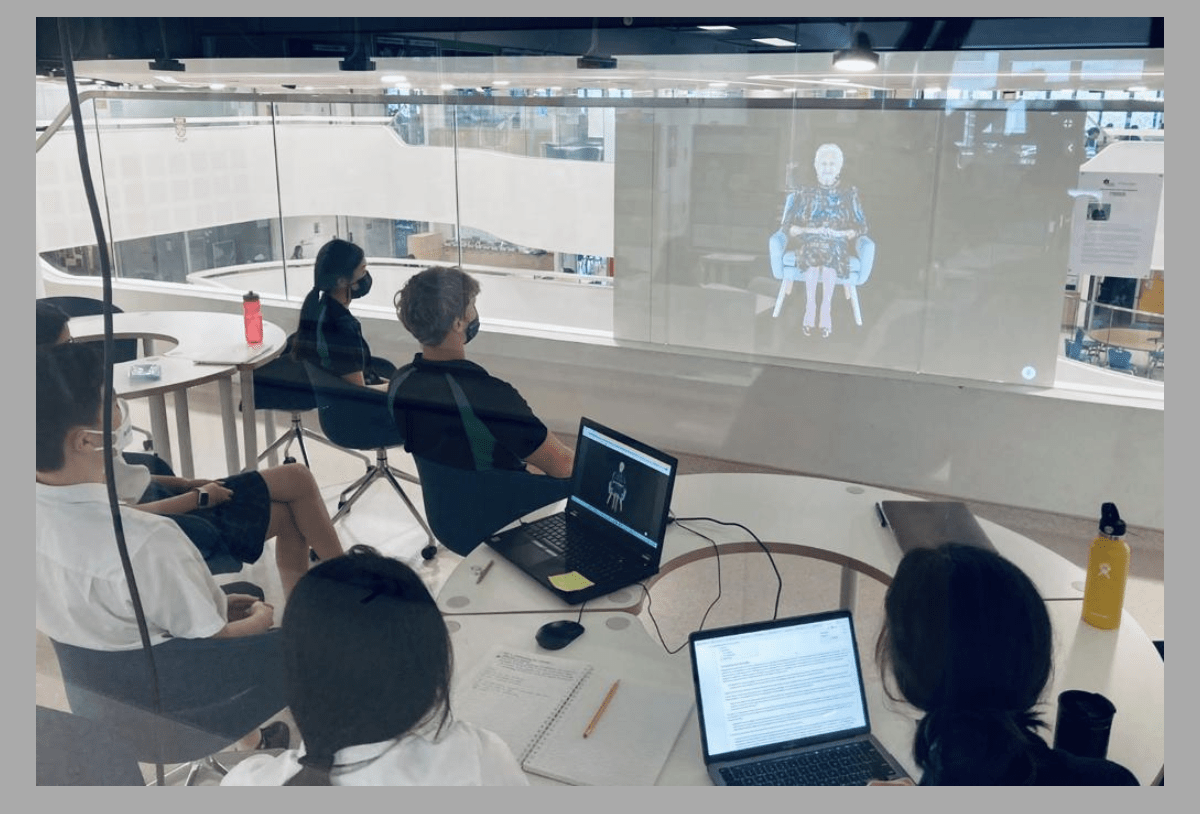 Our multi-year cooperation with the USC Shoah Foundation enables us to have the cutting-edge Dimensions in Testimony and iWitness systems in place to roll out to schools.
These platforms give students eye-opening interactive access to survivor testimonies from the Shoah, the Nanjing massacre and other atrocities. This semester, we partnered with HKIS, Carmel School and Malvern College to pilot these new resources for different age groups. We will bring them to many other schools including several ESF schools, GSIS and other local colleges, including universities.
In the absence of in-person visits by survivors – which will remain difficult to organise in the near future – this form of experiencing eyewitness accounts is a powerful pedagogical tool. We are also adding to these events with bespoke seminars, talks by family members of Holocaust survivors living in Hong Kong (our 'Next Generation' project), virtual reality exhibitions and museum tours. These interactions typically involve several hundreds of students and span multiple days.
We are active behind the scenes with exciting new cross-border projects and initiatives. In December 2021, our joint workshop on Holocaust memory brought together 150 students from Hong Kong, mainland China and Macao and – for the first time ever – Malaysia. In a similar series of workshops, we were able to connect 60 students from Hong Kong, mainland China and Macao with students from a major Japanese university. The participants engaged at length – and in a very personal and reflective manner – about historical trauma in their respective countries and families. These events were so successful that we were approached with the request to organise more of them.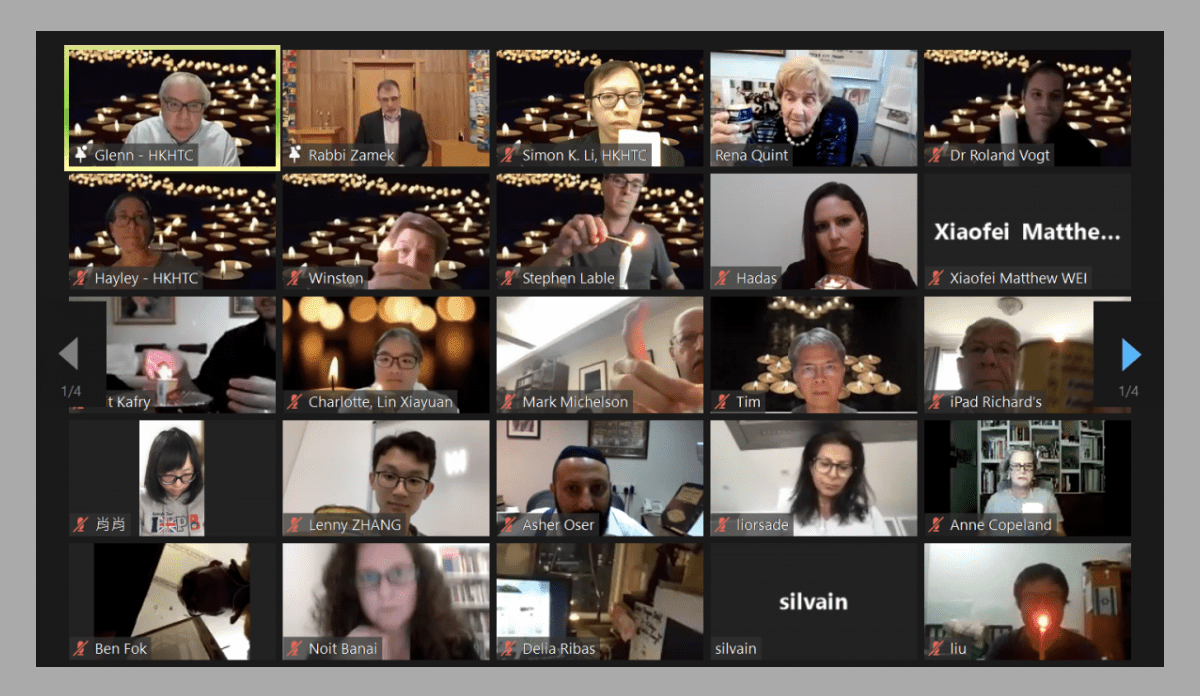 Adapting HKHTC's Key Signature Events for the General Public
HKHTC also adapted many of its key signature events for the general public and the community alike, by hosting webinars and virtual commemorations. We hosted a virtual commemoration with 100-year old Holocaust survivor Eddie Jaku in January 2021 (he sadly passed away in October 2021) which got over 7,100 views. Our Yom HaShoah virtual commemoration in April 2021 featured Anita-Lasker Wallfisch, a gifted cellist who survived of Auschwitz and went on to found the English Chamber Orchestra after the war. We hosted a Romani survivor for the first time and featured scholars and government officials – such as Germany's first federal commissioner for the fight against antisemitism.  
None of these achievements would have been possible without your support, interest and generosity. As a small and nimble organisation, we depend on the goodwill and passion of our donors. Our main priority for 2022 is to effectively tackle the rapidly growing demand for our educational programming in Hong Kong but also, increasingly, further afield. As the only major Holocaust and tolerance centre located between Jerusalem and Sydney, our footprint and impact in a region that is home to 60% of humankind will be consolidated further through the three following initiatives:
•   Creating a bilingual English and Chinese language microsite with educational resources on iWitness;/p>
•   Developing our Next Generation project into audiovisual resources; and
•   Reconfiguring our administrative structure to accommodate the growth in our activities.
Please accept my most heartfelt gratitude for your generosity that is so vital to HKHTC as we move into a new decade as Asia's leading Holocaust and tolerance organisation.
Thank you!
Sincerely,
Dr Roland Vogt
Chairman
_____________________________________________________________________
Donations by cheque can be made to:  The HK H & T Resource Centre Ltd 
Donations by bank transfer to: The HK H & T Resource Centre Ltd (please use this exact wording)
Citibank HK$: 250 390 68570058
Citibank US$: 250 390 68570074 
US tax-deductible donations:  Please contact us for details
Recent Event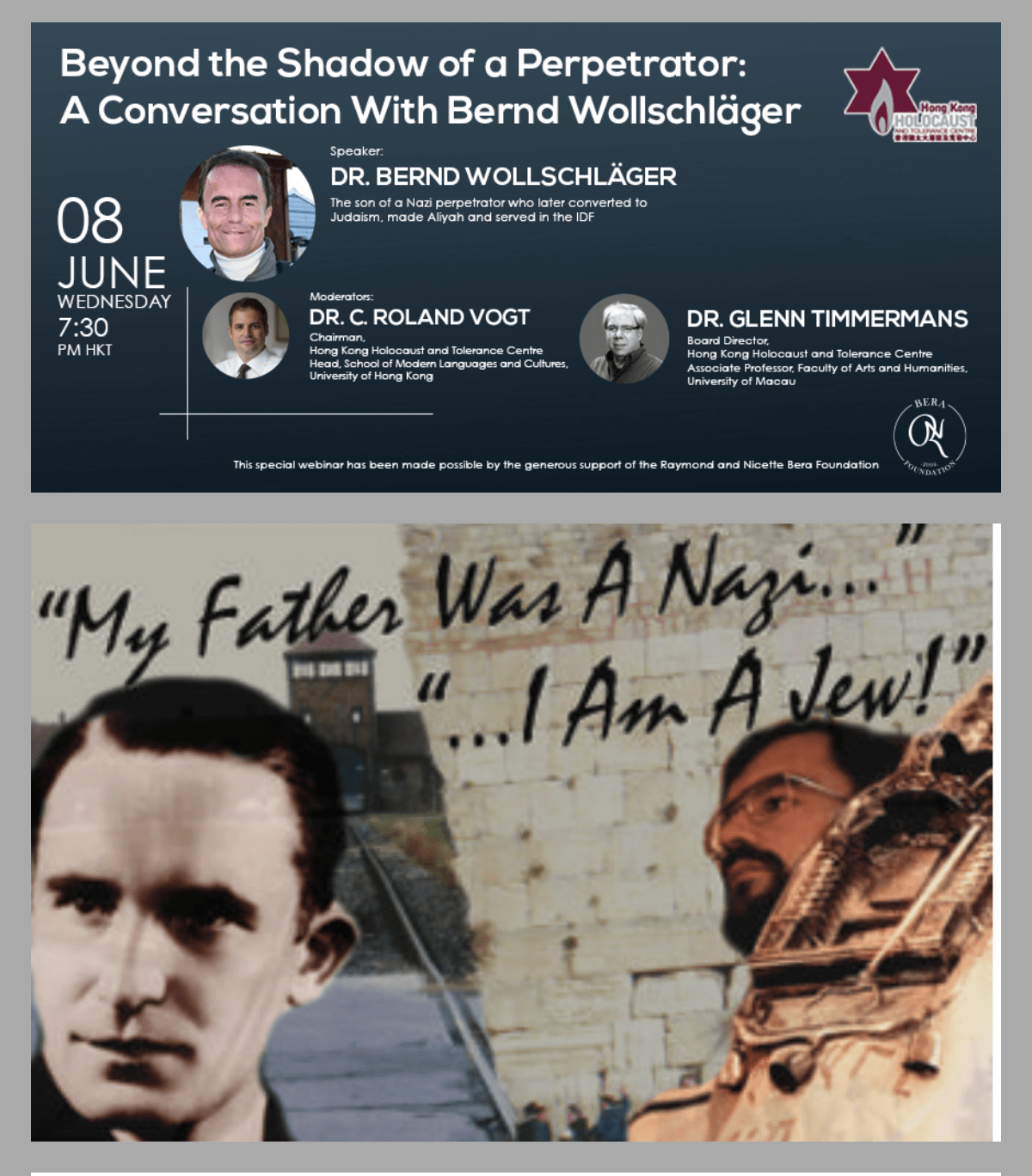 "Beyond the Shadow of a Perpetrator: A Conversation with Bernd Wollschläger" Webinar. Growing up with a Nazi father, Dr Bernd Wollschläger is now a Jew by choice. Born a German Catholic, he was the son of a tank commander who received the Iron Cross, Germany's highest military honor, which was pinned on him by Adolf Hitler. When the son discovered his father was a decorated Nazi war hero who has kept the past hidden from his children, he rebelled, converted to Judaism, and even served in the Israel Defense Forces. Dismayed by the legacy of the Holocaust, the son found that the rift between family and faith never healed. In this week's HKHTC webinar, Dr Bernd Wollschläger shared with us the story of a German life out of the shadow of a perpetrator.

The webinar video can be watched here.
Upcoming Event
 
HKHTC @ Hong Kong International Book Fair 2022, 21 July at 3:30 PM HKT. Building on the success of last year's attendance when a diverse, standing room only crowd attended our Holocaust talk in the Book Fair, HKHTC will present a special lecture titled "Love in the Darkest Hours of the Holocaust" (猶太大屠殺歷史: 被遺忘的愛情故事) at the city's biggest annual literature event this summer.

The lecture, which will be presented by our Executive Director Simon K. Li in Cantonese, will enable us to connect with our local community members, including many who through this event will learn about the Holocaust for the first time. HKHTC is grateful to the Consulate of Israel in Hong Kong & Macau for arranging the talk. Further details will be circulated soon.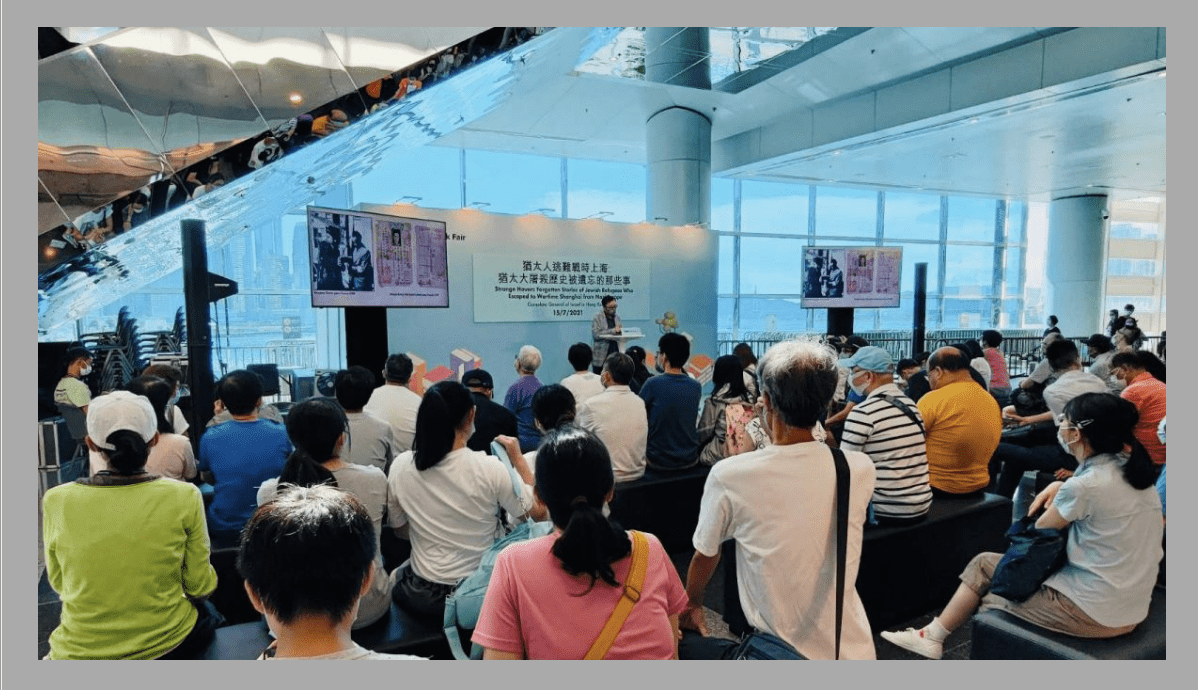 To view the above HKHTC 2022 Annual update in our original email format, please click here.
To view the HKHTC 2021 Annual update in our original email format, please click here.
To download the HKHTC 2020 Annual update as a PDF, please click here.
To download the HKHTC 2019 Annual update as a PDF, please click here.
To download the HKHTC 2018 Annual update as a PDF, please click here.
To download the HKHTC 2017 Annual update as a PDF, please click here.